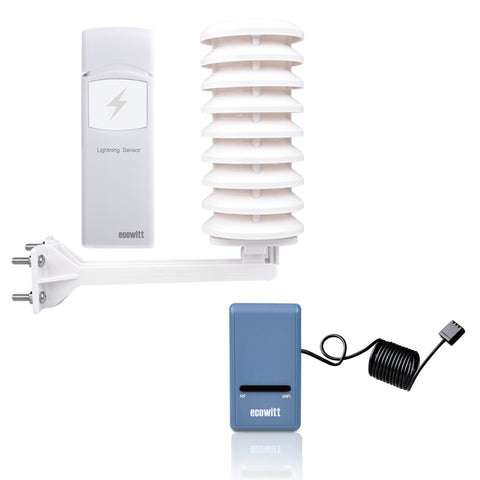 Ecowitt WH57 Lightning Sensor, Shelter & GW1100 WiFi Gateway
AVAILABLE & READY TO SHIP
The Ecowitt WH57 Lightning sensor with the GW1100 WiFi gateway is an ideal starter set for those with an interest in lightning detection and weather . Start with this sensor and add additional sens......
DESCRIPTION

INCLUDES

TECHNICAL & MANUAL

REVIEWS | QUESTIONS & ANSWERS

SHIPPING
The Ecowitt WH57 Lightning sensor with the GW1100 WiFi gateway is an ideal starter set for those with an interest in lightning detection and weather .
Start with this sensor and add additional sensors as your interest grows building  a modular weather station with full internet access.

The GW1100 is configured through a web browser so a smart device is not required for setup. The gateway connects to all the Ecowitt transmitter sensors (WH57 lightning sensor included), you can set Time Zone and Date, manage other sensors, view sensor signal and power status. 
The GW1100 WiFi gateway is USB powered and also has builtin temperature, humidity and barometric pressure sensors for indoor readings.  The gateway has these sensors on a wired probe so that they can be kept away from sources of heat which would skew readings.
The WH57 lighting detection sensor obtains lightning data from within 25 miles of the sensor and is housed in the included protective shelter.  Lightning data is uploaded to the Ecowitt weather network which displays strike count, distance and the time recorded. Using the Ecowitt network you can also receive emailed lightning alerts.
This data, along with any other sensor data is uploaded to the Ecowitt service via WiFi and can be viewed on the App, or on the Ecowitt weather website.

You are not just limited to weather data on the Ecowitt.net weather site or App. With additional sensors, you can share your data further afield with free access to the UK MetOffice WoW service, Weather Underground, WeatherCloud and your own web server (where additional sensors are supported by the network).
Unlike some other stations, the WH57 lightning sensor and Ecowitt GW1100 can be expanded with additional sensors, click here to view the latest Ecowitt sensor matrix for details.
All of these are available to view in the App, or online via Ecowitt.net and in the 3rd party services that support the sensor type.
WH57 lightning sensor
Protective shelter for WH57 sensor
GW1100 WiFi gateway, 868MHz (UK/EU approved)
Cable clip for sensor
Instruction manual via electronic download
WH57 lightning sensor
Detects lightning bolts from storms within 25 miles (40 km)

High or low sensor sensitivity to meet different requirements

When used with the included GW1100 Wi-Fi Gateway

Monitor number of strikes daily and the time & distance of the last strike detected within a 25-mile radius of your location on the Live Data page of the WS View or Ecowitt app (requires the gateway and phone using the same Wi-Fi network)

Battery power level display on the WS View App

When uploaded to Ecowitt Weather Server

View lightning data & history records & graph on the website

Receive email alerts from the server

Remote monitoring with smart phone, laptop, or computer by visiting the website

Transmission distance in open field: 100m (300 feet)
868MHz UK and European frequency
Lightning detection range: 0 - 25 miles / 0 - 40 km
Sensor reporting interval: 79 seconds
Power: 2 x AA 1.5V Alkaline battery
GW1100 WiFi Gateway with USB power
3 Built-in sensors

Temperature (-10°C - 60°C; resolution: 0.1°C)

Humidity (1% ~ 99%; resolution: 1%; accuracy: ± 5% )

Atmospheric pressure sensor (300 – 1,100 hPa ; accuracy: ± 5 hPa)

Configure gateway WiFi via web browser

Configure additional sensors options via web browser including calibration

Publishes sensor data to Internet based weather services including

Ecowitt weather data service: ecowitt.net

WeatherUnderground.com

WeatherCloud

MetOffice WoW

Only sensor data supported by each specific service will be uploaded

View historical records from your weather station (outdoor temperature, humidity, wind, rain)

View all current sensor data on the live dashboard

View historical records, and graphs on Ecowitt.net service website. Historic records can also be exported in Excel format

Wireless Range from external sensors: 300FT/100M(in open areas)

868MHz UK and European frequency

GW1100 gateway is USB powered (power supply available separately)
The instruction manual for the WH77 lightning sensor can be viewed by clicking here.
The manual for the GW1100 WiFi Gateway is available by clicking here.
REVIEWS | QUESTIONS & ANSWERS
Great little detector
For the money you can't go far wrong, I have it installed under the summerhouse over hang. Once the gateway or console is setup, all you have to do is install the batteries and the rest was automatic, the gateway found it and was up and running in minutes.
UK Shipping & Delivery
Economy Delivery (£4.70 or free on orders over £80) 2 to 6 working days
Standard

Delivery (£5.90) 1 to 2 days for mainland UK

Express Delivery (£8.95) guaranteed next working day for mainland UK. Highland and Islands, Northern Island 2 to 3 working days. Available on orders placed before 11am
Europe & Rest of World Shipping & Delivery
Europe (from £4.50) per order
Rest of the World (from £9.60) per order
Please note that there may be local import duties (VAT/TVA) to be paid on before receipt of your goods from your local customs agent. We are registered with the European IOSS scheme which means duties will be prepaid for orders under €150